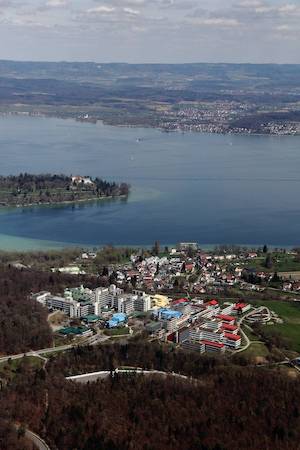 Lakeside semantics & pragmatics
Welcome to Lakeside semantics & pragmatics, a website that showcases research(ers) on meaning and interpretation of natural language, broadly construed, at the University of Konstanz.
The members of the semantics & pragmatics community are distributed over several departments of the university, most nobably linguistics and philosophy. They engage in various activities, and regularly organize events.
Many of the researchers at various career stages are employed in projects with third-party funding. The vibrant community is frequently enriched by visitors.
Upcoming events
June 7–9, 2018
Meaning in non-canonical questions.
A workshop organized by FOR2111: Questions at the Interfaces.
Invited speakers: Veneeta Dayal (Rutgers), Donka Farkas (Santa Cruz), Benjamin Spector (Jean Nicod), Malte Zimmermann (Potsdam).

June 27–29, 2018
TripleA 5: The Semantics of African, Asian and Austronesian Languages.
The TripleA workshop series aims at providing a forum for semanticists doing fieldwork on understudied languages. Its focus is on languages from Africa, Asia, Australia and Oceania. Its fifth installment will take place in Konstanz on June 27-29, 2018.
Invited speakers: Rajesh Bhatt (Amherst), Claire Halpert (Minnesota), Andrew Koontz-Garboden (Manchester), Jozina Vander Klok (Oslo).
Current visitors
Laura Vela-Plo, University of the Basque Country.
April 16 – June 30, 2018
Laura is a PhD student in syntax-semantics at the University of the Basque Country. Her work concentrates on the syntax-semantics interface, more specifically, on the expression of comparison and degree constructions. During her stay in Konstanz, she will mainly work with Maribel Romero.
Other news