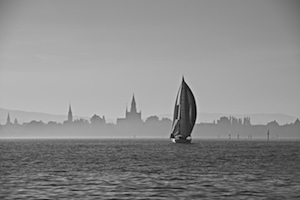 The Konstanz semantics community is frequently enriched by visitors from various places all over the world, from senior researchers to visiting PhD students. Some stay for a few days, some for a few months, most come more than once.
Upcoming visitors
Yurie Hara, Waseda University.
January 23 – 26, 2019
Yurie is a guest associate professor at the Research Institute for Science and Engineering at Waseda University, and her work spans many topics at the semantics/pragmatics interface. During her visit in Konstanz, which is organized by Project P5 of FOR2111, she will give a talk at the Linguistics Department Colloquium, entitled Japanese modalized questions: their prosody and levels of meaning (Thu, January 24, 3:15pm, G-307) and will also be a guest in the Research Colloquium on Syntax, Semantics, and Pragmatics (Wed, January 23, 5pm, G-306), where the participants will discuss Yurie's newest work on the Japanese sentence-final particle darou in questions.

Kjell Johan Sæbø, Universitetet i Oslo.
February 18 – March 1, 2019
Kjell Johan (still) needs no introduction. He will visit the lakeside community again, after his visit last year. We are very happy to have im back, to continue the many inspiring conversations begun then, to discover new connections, and to continue strengthen the Oslo-Konstanz semantics link.
Past visitors